GTA 5 PS4 And Xbox One Patch Made Graphics Worse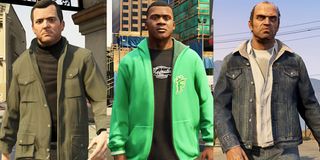 If you think that the graphics of the Xbox One or PS4 version of Grand Theft Auto 5 look worse lately, you're not going crazy. Rockstar Games says that Title Update 1.08 actually deteriorated the graphics.
"We are aware of some graphical issues on the Xbox One and PS4 versions of GTAV after the most recent Title Update, and we are investigating a fix now," Rockstar Games said on their Support site.
While they don't have an ETA on a patch, you can sign up to be notified by email once they announce further details. To get an email notification, sign in at the above link and click the "Subscribe" button on that page.
Update 1.08 (1.22 on PS3 and Xbox 360) was released on March 15th. It was a small patch, with the changes summed up in a single sentence: "Fixes for GTA Online to improve stability, and other minor fixes for both GTA Online and Story Mode." The patch seemed to be in response to the launch problems experienced with GTA 5's online heists, which debuted earlier that week. Whatever Rockstar did managed to muck up the game's visuals, though.
A YouTube video from ElAnalistaDeBits shows a comparison of the visuals from version 1.0 and version 1.08 of the game:
The downgrades include shorter draw-distance, less detailed collision damage on cars and worse anistropic filtering. Some of the changes are pretty subtle on their own but added up together, there's no question the performance of the game on PS4 and Xbox One has been worsened by Update 1.08.
To be fair to Rockstar, 1.08's not a complete downgrade from the launch build. Version 1.0 of the game had a weird visual bug in which trees and bushes didn't move in the wind at all. This bug was eventually fixed with Patch 1.05, released at the end of 2014.
Still, any downgrade is a big problem because improved graphics were a major selling point of the PS4 and Xbox One versions of GTA 5. Players upgraded from the PS3 and Xbox 360 editions to be able to experience the game without the visible strain that the older consoles experienced. It's understandable, then, that they've taken to Twitter to demand fixes:
Even with these problems, though, PS4 and Xbox One owners still have it better than PC gamers. GTA 5's PC version has been pushed back multiple times. It's now expected in April.
Staff Writer at CinemaBlend.
Your Daily Blend of Entertainment News
Thank you for signing up to CinemaBlend. You will receive a verification email shortly.
There was a problem. Please refresh the page and try again.