GTA 5 Xbox One And PS4 Custom Consoles Look Fantastic, Here's How To Get Them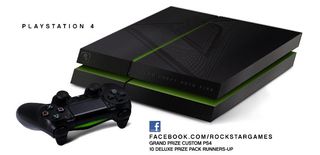 Rockstar Game is celebrating the Thanksgiving weekend with a bunch of giveaways. The two grand prizes are an Xbox One and PS4 with custom GTA 5 artwork.
"Both of these individually hand-fabricated consoles features an exclusive black-on-black Grand Theft Auto V design, laser etched on micro perforated metal paneling with hi-gloss deep green painted accents and a custom color-matched controller," Rockstar said on their Newswire.
The custom PS4's controller just looks like a black DualShock 4 except for a green light bar. The Xbox One gamepad for the bundle is emblazoned with the GTA 5 logo and the letters on face buttons are all green.
You can sign up for a chance to get the custom PS4 at Rockstar Games' Facebook page. The Xbox One giveaway is being hosted at Rockstar Social Club. You can read all the fine print on these contests here and here.
The company will also give away 10 prize packs through each site. The prize packs include the following GTA 5-themed items:
CNT Tee
Cultstoppers Pin Set
Dr. Friedlander Stress Ball
Epsilon Program Laser-Etched Paper Weight
Fred's Pictures Tee
Grotti Polo
iFruit Mouse Pad
LifeInvader Mouse Pad
Loneliest Robot Greeting Card
Los Santos Est. 1781 Tee
Los Santos Radio Pin Set
Los Santos, San Andreas Tee
Love Fist Tee
Merryweather Security Polo
Merryweather Security Cap (in both Black and Fatigue)
Merryweather Security Heat Changing Mug
Merryweather Security Tee (in both Black and Grey)
Pogo Keychain
San Andreas Republic Tee
Snapmatic Tee
Sprunk Water Bottle
STD Contractors Tee
Sticker Pack featuring the brands of GTAV
If you're into GTA 5 and other Rockstar-related merchandise, it's worth noting that Rockstar Warehouse is holding a weekend-long sale. They're offering 30% off all on gear and collectibles.
"Choose anything from the Grand Theft Auto V Collection including popular gear and collectibles like the Zippo Lighter and GTAV Hoodie along with several items that weren't available last year at this time, such as the Body Bag Sleeping Bag and the Trevor Philips Industries Tee," Rockstar says.
"Longtime fans can also take this opportunity to grab some Rockstar Apparel or gear and collectibles from some of our classic titles, including the Red Dead Redemption Frontier Collection and the Anniversary Collections for all three entries in the classic Grand Theft Auto Trilogy - GTAIII, Vice City and San Andreas."
The Xbox One sweepstakes on the Social Club will be open until December 1st. The PS4 contest will run until the 4th. Potential winners will be contacted by email around December 7th, at which point they'll be asked to prove their eligibility.
The giveaway is also a celebration of the PS4 and Xbox One launch of GTA 5. The game arrived on both consoles earlier this month with new content and a few technical improvements. Players upgrading from the PS3 or Xbox 360 versions get exclusive content.
Staff Writer at CinemaBlend.
Your Daily Blend of Entertainment News
Thank you for signing up to CinemaBlend. You will receive a verification email shortly.
There was a problem. Please refresh the page and try again.