GTA IV Continues To Top Steam Charts Thanks To iCEnhancer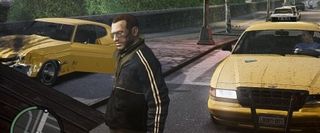 Last week Valve let loose the numbers for the top 10 games that were basking in sales glory and thanks to their summer sale and the viral spread of the iCEnhancer mod across most major gaming sites, PC gamers were keen to grab a copy of what's now become one of the most visually impressive games on the market.
Valve recently released a list of the top 10 games sold throughout the week and guess what game is still up there, despite the summer sale having been over with for an entire week? That's right, Grand Theft Auto IV. Released back in 2008, Rockstar's open-world action title is still topping the Steam charts thanks to the virility of the iCEnhancer, which lead many gamers to believe that they could get a taste of Grand Theft Auto V by installing the mod, even though the summer sale is done and over with. Check out the numbers below.
1. Portal 2
2. Terraria
3. The Witcher 2: Assassins of Kings Digital Premium Edition
4. Fallout: New Vegas
5. Borderlands: Game of the Year
6. Magicka Complete Pack
7. Valve Complete Pack
8. Grand Theft Auto IV: Complete Edition
9. Total War: SHOGUN 2
10. Fable III
Despite claims that the mod doesn't work well with the Steam version of GTA IV, many gamers have had no problems running the mod, including yours truly.
The designer of the mod says that a new version is also in the works to increase compatibility with version 1.0.7.0, which is the version that Steam runs. This means savvy gamers no longer have to go through round-about ways to downgrade the game in order to successfully use the mod.
If the sales continue to stay high for GTA IV then it might give Rockstar an idea of how they might want to approach the visuals in GTA V. Although, that would definitely rule out a release on the current gen Xbox 360 and PS3.
As it stands, Grand Theft Auto IV is now one of the best looking games this generation thanks to that nifty new mod and if your rig can handle it I definitely suggest giving it a go. You can learn more about the mod by visiting the Official Website. Also, for those of you who have yet to see the mod in action, check out the video below.
Staff Writer at CinemaBlend.
Your Daily Blend of Entertainment News
Thank you for signing up to CinemaBlend. You will receive a verification email shortly.
There was a problem. Please refresh the page and try again.