GTA V Could Be Xbox 720, PS4 Launch Title, Says Analyst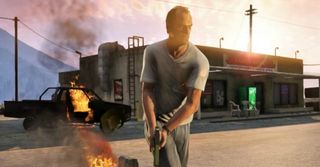 Whip out some more of that speculation juice because the rumor room just got full again. This time around, an analyst from Cowen & Company has some interesting predictions for the release of Grand Theft Auto V, especially regarding the DLC and the next-generation game consoles, saying the delay was to accommodate Microsoft and Sony's new set of systems allowing for a release on current-gen consoles in September and a second release in November for the next-gen systems.
Following the recent announcement from Rockstar regarding GTA V's delay from a spring release to a window closer to fall, Trusted Reviews managed to grab the quote from Cowen & Company senior analyst Doug Creutz, who stated that...
This makes a ton of sense, as Sony has already announced big plans for the PlayStation brand later this month on February 20th, and Microsoft has already confirmed that they have big plans for this year's E3.
While it's easy to brush up Creutz' speculation as baseless rumor churning, we have to at least think that such a possibility is very real, especially given what Dan Houser mentioned in regards to the delay, also noted on Trusted Reviews, where Houser states...
The RAGE technology that powers GTA V is well in advance of current-gen tech and has been begging for something bigger and better to really flex its muscle, as indicated with the iCEnhancer visual mods that effectively turned Grand Theft Auto IV into the most realistic and visually impressive video game this generation.
It would only make sense for Rockstar to have a port of GTA V ready for next gen consoles, and moving the release window closer to the holiday season to reap massive sales from current-gen consoles with a September launch of GTA V means they can double-dip as the game releases again as a launch title for the Xbox 720 and PlayStation 4, something we here at Gaming Blend hinted after GTA V was originally announced.
I guess we'll all find out one way or another on February 20th, during the first week of June, and when the holiday season rolls around.
Staff Writer at CinemaBlend.
Your Daily Blend of Entertainment News
Thank you for signing up to CinemaBlend. You will receive a verification email shortly.
There was a problem. Please refresh the page and try again.