Game Of Thrones Intro Remade With Legend Of Zelda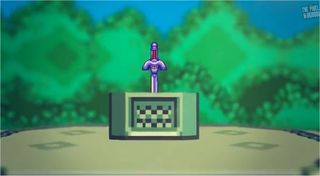 The famous Game of Thrones intro from the HBO television series has been remade using 3D pixel sprites from Nintendo's iconic Legend of Zelda. The short and sweet video is pretty cool and unlike a lot of the content from the television show whose intro it pays homage to, the video is entirely safe for work... opposite of this video doozy right here (only click that if you really aren't at work, for real. You don't want to get fired for looking at what's essentially a fantasy-medieval offspring mash-up of Playboy and The Lord of the Rings).
As for the video intro above featuring two iconic pieces of historical fantasy-fiction, the work comes courtesy of creative YouTube group The Pixel Kingdom. According to the video's description, the video above was originally inspired by another Game of Thrones mash-up by NicksplosionFX, which featured a complete redo of the GoT intro in the form of Super Mario World from the SNES.
Oh, that description tickled your fancy? Well, how about I indulge your curiosity for just a bit with this little fanciful video below.
I'm mostly curious how they managed to create 3D depth deformation from the sprites? If I had to hazard a guess they could have textured over a basic 3D mesh that's animated to protrude certain polygons to fixed heights. It wouldn't be too hard to do if you had the right software. I would, however, imagine that the camera angles would be a bigger pain to achieve given that the goal is to make it all look dynamic and similar to the HBO show's tabletop stop-motion theme, without giving away any of the magic that makes it work.
As for all the fancy camera filter effects... I imagine they could have been applied in the video editing software. It all comes together quite well so it is kind of hard to pinpoint exactly how all the parts were constructed for the final thing.
Nevertheless, the recreation is a pretty amazing feat and showcases a take on the popular show from a fan's perspective of another popular fantasy adventure series.
While a video like the Game of Thrones-Legend of Zelda mash-up might have some long-time fans pining for a new adventure in the series, such fans are in luck because Nintendo has a brand new title in the series planned for release next year, exclusively for the Wii U. You can check out the new game right here.
Your Daily Blend of Entertainment News
Staff Writer at CinemaBlend.