GameStop Announces Halo Day Celebration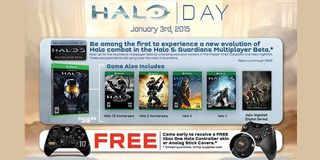 If you're looking to kick off your New Year with Master Chief, then GameStop has you 100 percent covered. The popular chain of games stores will host a "Halo Day" this Saturday, Jan. 2, offering up "savings and exclusive goodies" to series fans who drop by for the festivities.
All these years later and Halo still manages to draw a big crowd. You can probably chalk that up to a mostly great run through its entire series, memorable characters, epic firefights and online multiplayer shooting that helped define, well, online multiplayer shooting.
Back at the turn of the century, one of the first things my buddy said to me after receiving an Xbox for Christmas was, "Dude, you've got to check out this Halo game." I did exactly that and, as I'm assuming is the case for many other gamers, I've been a fan ever since. Halo 2 holds an especially dear place in my heart due to the ridiculous number of PvP hours my friends and I got in during Christmas. Ahhh….Memories.
Anyway, GameStop is banking on the fact that many other gamers had a similar experience to mine, as they're hosting an entire day of festivities revolving around the hero in green. If you go ahead and reserve your copy of Halo 5: Guardians during the event, you'll be rewarded with a special Master Chief poster. That's not to be confused with the Master Chef poster, which will be passed out for reserving a copy of the latest Cooking Mama. (Note: This is, in fact, a flat-out lie and I apologize for betraying your trust on such a lame, lame joke.)
Not interested in reserving Guardians? Then you can at least pick up a free Xbox One controller skin or analog stick cover themed after the game. Then again, if you're not interested in the new game, I'm not sure why you'd really care about free Halo goodies, unless you just really like free things.
Loads of Halo discounts will also be available during the event, all of which you can check out at the official GameStop listing. These deals include a limited edition of Halo 5 for 100 bucks, as well as a Limited Collector's Edition, which comes with a statue, for a measly $249.99.
Look, I don't want to presume to tell you how to spend your money, but promotions like these special pre-orders are one of the biggest problems in gaming right now: Namely asking people to fork over their money without actually telling them what they're getting in return. We know that the $100 copy of the game comes with, well, the game, and that super expensive version includes some sort of a statue. We can assume that the special editions include maybe a season pass to online content, special skins and the like, but that would only be a guess. As for me, I'm not sure I want to send the message that I'm willing to buy literally anything on blind faith so long as a big enough name is attached to it.
Staff Writer for CinemaBlend.