Halo 5 Collector's Edition Announced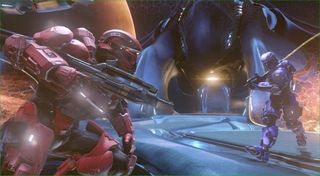 Microsoft and 343 Industries have officially kicked off the multiplayer beta for Halo 5: Guardians. The beta is exclusive to those who purchased a copy of Halo: The Master Chief Collection earlier this year for the Xbox One. It's amazing how time flies, eh?
Over on the official Xbox news wire (opens in new tab) Microsoft rolled out the details of the pre-order details and information on the collector's edition of Halo 5.
The story of the game is briefly explained as such...
That's right, Halo 5: Guardians will take on a similar story and multi-character approach as Halo 2 did with the Chief and Arbiter. I really liked that whole concept, showing two different sides of the same equation. I hope it's handled with the same level of care in Halo 5.
As for the details on the pre-orders and limited collector's edition... there are three tiers to the game's pricing. The first is the basic $59.99 deal that simply contains the game and a poster. Of course, the poster is only available to those who pre-order the game. The second is a limited edition for $99.99 that comes with special items wrapped in a steel book, along with "exclusive" items to help you out in-game. Paying to win. The third and final tier is the $249.99 bundle that contains the game, everything in the limited edition and a commemorative numbered statue designed by the team at 343 Industries. There are also more details about the $249.99 bundle that Microsoft will unveil at a later date.
There are limited quantities of each tier package with the availability of each tier being available only at participating retailers and for a limited time.
According to the news page, more information on the limited collector's edition bundles will be unveiled at a later date.
The focus right now is on the ongoing beta that just got underway today. The beta will run all the way up until the middle of January, as noted in the news post...
Now that's pretty cool... being able to carry over your content that you unlock in the multiplayer beta into the final game when it becomes available late in 2015? Real cool.
As for the Halo 5 multiplayer beta itself, the small slice of gameplay that Microsoft and 343 are allowing players to experience to close out 2014 and usher in 2015. The beta contains seven playable maps, three game modes and lots of back-and-forth action in 4-vs-4 arena battles. If you own Halo: The Master Chief Collection you can get in on the action right now.
Staff Writer at CinemaBlend.
Your Daily Blend of Entertainment News
Thank you for signing up to CinemaBlend. You will receive a verification email shortly.
There was a problem. Please refresh the page and try again.