GameTrailers Gets Hit With Major Layoffs Following Defy Media Acquisition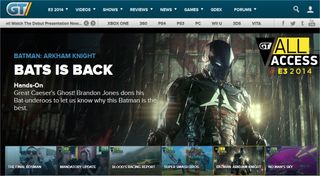 One of my favorite gaming websites used to be GameTrailers. They had all sorts of awesome content that you would never find anywhere else. I learned about a ton of new games, game trailers and video content through GameTrailers that I otherwise never would have known about, such as BattleSwarm: Field of Honor or Age of Wushu (previously known as Age of Wulin in European territories) as well as Red Cliff and tons of other indie titles and non-AAA games.
However, a lot of the good times and great content will be coming to an end as the site will be losing many of its features due to having hit the core staff with major layoffs.
Games Under Pressure is reporting that following the acquisition from Viacom subsidiary Defy Media, as reported by Venture Beat, GameTrailers had to make some major financial cuts, and they came directly after a lot of the good folks over there put in some hard work and zealous effort during this year's E3. That's right, the layoffs came fast and furious directly after E3. Ouch.
A lot of the former GT.TV natives took to Twitter to announce their departure, but Games Under Pressure rolled out a more formal list of who is no longer under the employ of GameTrailers...
Honestly, I'm absolutely shocked that long-time GameTrailers reporter Daniel Kayser is leaving. It always seemed like Geoff and Daniel were the faces of GT.TV, and now one half of that team will be gone. Startling.
Nonetheless, it's better to be hit with layoffs than to have the entire site shutdown, which seems to be the looming prospect for many of Future's publications, including but not limited to CVG, Official Xbox Magazine, Official PlayStation Magazine and even Edge Online.
Still, seeing tweets like this don't make it any easier to see how the gaming news media landscape is rapidly changing...
I always think about sites and sections that cater content to viewers who are looking for something a little different from the AAA arena – without them you sometimes would just never know certain games exist. While BattleSwarm is no longer in operation, I was glad to have come across the game when I did thanks to the trailer being on GameTrailers; without it being there, it would have stayed a non-experience lost forever to the passing ether of time.
With sites now trying more than ever to focus solely on marketing schemes for clicks, I doubt we'll see sites taking such measures sustaining themselves for too long. It will be interesting to see how GameTrailers evolves now that they're under Defy Media, the same group that runs Escapist Magazine and Allow Digital.
Your Daily Blend of Entertainment News
Staff Writer at CinemaBlend.