Red Cliff Facelift Patch Now Available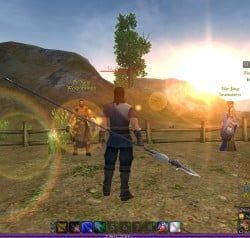 Cubizone recently let the news fly loose that a new patch has become available for the historical online RPG, Red Cliff, featuring an updated interface and a list of new items.
Perfect World Beijing recently released the MMORPG with Cubizone heading up the global publishing, and it also happens to be a movie-based game, coming off the success of the 2008 John Woo flick, Red Cliff. For those of you who are completely bewildered about what this game is about, just imagine a more realistic version of Dynasty Warriors but where you create a character that aims to become a hero of old China, shaping the land at the end of the Han dynasty.
The new update adds a number of new items to the game, including crafting tools, accessories, armor and more. You can learn more about the details of the patch or check out Red Cliff Online by visiting the Official Website.
Staff Writer at CinemaBlend.
Your Daily Blend of Entertainment News
Thank you for signing up to CinemaBlend. You will receive a verification email shortly.
There was a problem. Please refresh the page and try again.