Gears Of War 3 Beta Access Included With BulletStorm Epic Edition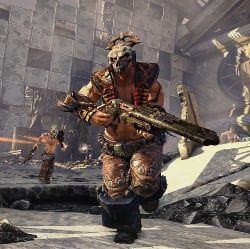 For a limited time next year, EA will be offering an "Epic Edition" of BulletStorm. Anyone who purchased the $59.99 Epic Edition will get access to Gears of War 3's public beta.
GoW3 beta is, obviously, only for the Xbox 360. Therefore, the Epic Edition is a 360-exclusive as well. Don't expect a beta token in your PC or PS3 BulletStorm.
In addition to GoW beta access, the limited edition also contains in-game bonuses for BulletStorm. You'll get 25,000 experience points to start off your multiplayer career. Visual upgrades for your leash, carbine, and armor will allow you to be as stylish as possible during online mayhem.
BulletStorm will be released on February 22nd in North America and on the 25th in Europe. The GoW 3 beta is expected in 2011.
Staff Writer at CinemaBlend.
Your Daily Blend of Entertainment News
Thank you for signing up to CinemaBlend. You will receive a verification email shortly.
There was a problem. Please refresh the page and try again.