Grand Theft Auto: San Andreas Now On iPhone and iPad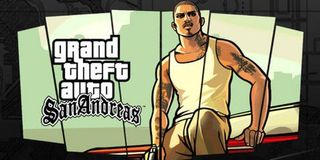 Grand Theft Auto: San Andreas has made its mobile debut today. Gamers can now download the PS2 sandbox crime game (opens in new tab) to any recent iOS device for $6.99 or £4.99.
San Andreas is set in a fictionalized version of California in the early nineties. Carl Johnson has returned home to Los Santos following the murder of his mother. His problems don't stop there, though. He's framed for homicide by two crooked cops. His gang, the Grove Street Family, is under attack by a rival outfit. He must travel across the state of San Andreas and its three cities in his quest to stomp rival criminals, get the cops off his back and keep his family safe.
The iOS remake features high-res visuals that include enhanced lighting and better character models. On the iPhone 5 series and iPad 4th generation or later, the game also has dynamic shadows and real-time reflections. Rockstar Social Club members can save their games to the cloud and continue them on different devices.
The mobile port of any console game gives me pause due to the controls. I was really not a fan of GTA III's port. Touchscreens and driving don't mix. Neither do touchscreens and shooting, much less touchscreens and shooting and driving. Flying the Harriet jet in San Andreas with touch controls don't sound particularly fun.
Rockstar's done their best to at least give players a range of options, though. There are three different control schemes to choose from. The virtual buttons for the game include dual analog sticks so you can control the camera and movement at the same time. If you'd rather not fiddle with a touchscreen, you can use a Made-for-iOS gamepad.
Rockstar says that you can create your own playlist for the game using your iOS device's music. Create a playlist called "GTASA" and then open the game. You should find a radio station called "MIXTAPE."
The iOS version of San Andreas supports the following devices: iPhone 4s, iPhone 5, iPhone 5s, iPhone 5c, iPod Touch 5th gen, iPad 2, 3rd and 4th gen, iPad Air, iPad Mini and iPad Mini with Retina Display. You'll need 1.63GB of free space. They recommend that you reboot your device after downloading the game and close any other apps before playing.
When Rockstar announced the mobile version last month, they said it would be coming to Android, Amazon Kindle and Windows Mobile devices as well. No word yet on when those launches will occur, though.
Staff Writer at CinemaBlend.
Your Daily Blend of Entertainment News
Thank you for signing up to CinemaBlend. You will receive a verification email shortly.
There was a problem. Please refresh the page and try again.