GTA San Andreas Coming To Mobile Devices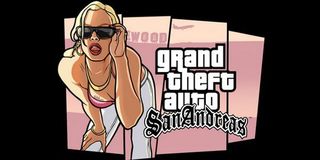 Rockstar revealed today that they're going to release a mobile version of Grand Theft Auto: San Andreas in December. The mobile port of the 2004 PS2 adventure will be available on iOS, Android, Kindle and Windows Mobile devices.
San Andreas took place in a fictionalized version of California. The game world encompassed the city of Los Santos from GTA V as well as San Fierro and Las Venturas. Players can also explore the towns and wilderness between these major cities. They can travel the world in many different kinds of vehicles, including airplanes, bicycles and even a jetpack.
The campaign was set in the 1990's. CJ has returned to Los Santos after five years in Liberty City. He'll reconnect with his old gang and contend with rival crews as well as the cops. The cast of sleazy characters in the game includes many celebrities such as James Woods and Samuel L. Jackson.
San Andreas stunned people with its size and depth back in 2004. It's been the standard by which later GTA games have been measured, for better or worse. GTA IV was considered a step backward to some because it had a tighter game world and no airplanes. GTA 5 was criticized for not having San Fierro or Las Venturas even though it had a wider selection of vehicles, more customization and a larger game world.
Rockstar remastered the visuals of San Andreas for the mobile release. Expect more detailed shadows as well as improved character and vehicle models. The draw distance has been improved as well so you can better admire the scenery.
The big disadvantage that San Andreas has on mobile is that touchscreen controls pretty much suck. Rockstar's giving it the good old college try, though. They're giving players three control schemes to choose from. Buttons for certain contextual controls will only show up when needed. San Andreas will also support a controller if you'd rather not fight the touchscreen.
San Andreas' predecessors GTA: Vice City and GTA 3 are also available for mobile devices. Now that they've got the three main games on smartphones and tablets, I guess they'll port over Liberty City Stories and Vice City Stories? GTA IV is probably too much for present devices to handle.
Staff Writer at CinemaBlend.
Your Daily Blend of Entertainment News
Thank you for signing up to CinemaBlend. You will receive a verification email shortly.
There was a problem. Please refresh the page and try again.