Grand Theft Auto: San Andreas PS3 Release Date Is December 12th?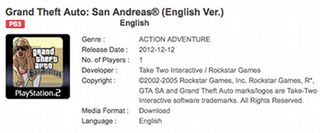 Grand Theft Auto: San Andreas might arrive on the PS3 in a matter of days. PlayStation Hong Kong states that the sandbox game will be re-released on PlayStation Network on December 12th.
GTA: San Andreas is set in a fictionalized version of California in the 1990's. Players take on the role of CJ, a gang member who returns to the city of Los Santos after his mother's murder. He rejoins his friends' gang, the Grove Street Families, and works to bring them back to their former glory. However, he soon learns that rival gangs are the least of his problems.
San Andreas is considered one of the best games in the series. It was the last entry in the series from the previous console generation and Rockstar went all out. The scale of the world was incredible, with three cities, a massive countryside, and an explorable ocean. The wide range of vehicles included bicycles, airplanes, helicopters and even a jetpack.
The first mention of a PSN re-release of San Andreas came in October. The ESRB rated that game and GTA: Vice City for the PS3. Rockstar never announced any plans to bring those games to PSN, though.
Because the release date was mentioned by PlayStation Hong Kong, it may not apply to North America or Europe. Still, the version listed on PS Hong Kong is in Englsh. I doubt Rockstar would create an English version of the game and then decide not to release it in Western territories. If the game doesn't arrive here on December 12th, it probably isn't far off.
Update: San Andreas has been confirmed for PSN release this week.
Staff Writer at CinemaBlend.
Your Daily Blend of Entertainment News
Thank you for signing up to CinemaBlend. You will receive a verification email shortly.
There was a problem. Please refresh the page and try again.