Grand Theft Auto: Vice City Hitting PS3 Next Week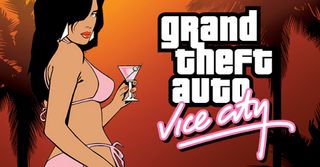 Grand Theft Auto: Vice City is finally coming to the PS3 this week. Today Rockstar Games provided the release date and price for the open-world crime game.
Vice City is set in the 1980's. The titular Vice City is a fictional version of Miami. Liberty City mobster Tommy Vercetti travels there to start over after a long stint in prison. His Liberty City boss appoints him to carry out a cocaine deal. After the deal is ambushed though, he's obligated to find the perpetrators. Over the course of the campaign, he performs unsavory missions that elevate him from a mere ex-con to the crime boss of the city.
The game was released about a year afterGTA III so it sticks to the same general gameplay formula. However, there are some substantial changes. There's a wider variety of vehicles available to the player, including motorcycles, helicopters and seaplanes. Players can now purchase properties as well in order to unlock new missions and gain steady income.
Rockstar released Vice City on iOS and Android late last year as part of the game's tenth anniversary celebration. The mobile version came with several enhancements, including updated visuals. Rockstar described the PS3 release as the "original" game, so expect the PS2 incarnation.
Vice City will be released through PSN on January 29th in North America. The European launch will occur on the 30th. The game will cost $9.99 / €9.99 / £7.99 to download.
Several Rockstar PS2 games are already available through PSN, including GTA: San Andreas. The company says that they'll be releasing others throughout this year. Expect more details soon.
Staff Writer at CinemaBlend.
Your Daily Blend of Entertainment News
Thank you for signing up to CinemaBlend. You will receive a verification email shortly.
There was a problem. Please refresh the page and try again.