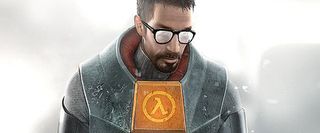 It's been a long wait for Half-Life fans with no signs pointing towards Half-Life 3 (or Half-Life: Episode 3) in sight. Valve, however, are definitely working on the highly rumored first-person shooter and have echoed exactly that with Gabe Newell opening up on the game.
Newell, who is the co-founder of Valve and managing director, finally discussed Half-Life 3 with Seven Day Cooldown, albeit indirectly. He referred to it as 'Ricochet 2', undoubtedly pointing towards a code word for the game.
The Steam creator has remained tight-lipped on Half-Life 3's existence based on the fact that unexpected instances during the title's development occurred, Newell explains.
"In terms of Ricochet 2, we always have this problem that when we talk about things too far in advance. We end up changing our minds as we're going through and developing stuff, so as we're thinking through the giant story arc which is Ricochet 2, you might get to a point where you're saying something is surprising us in a positive way and something is surprising us in a negative way, and, you know, we'd like to be super-transparent about the future of Ricochet 2," said Newell.
"The problem is, we think that the twists and turns that we're going through would probably drive people more crazy than just being silent about it, until we can be very crisp about what's happening next."
To add further credence to Newell's words about Half-Life 3 experiencing unforeseen occurrences, Develop's sources were told in 2011 that "unexpected concept changes" impacted the delay of the game.
Ricochet was actually a part of Steam's launch line-up, but a sequel hasn't been talked about in any aspect at all by Valve, further adding credibility to Newell's code name for Half-Life 3. In addition, the interviewer himself posed the question in a fashion that would lead one to believe they were indeed conferring to Half-Life 3.
Your Daily Blend of Entertainment News