Halo 5 Concept Art Reveals New Location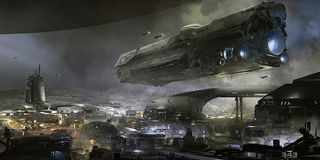 343 Industries gave us a small peek at their Xbox One Halo game today. They've released a piece of concept art showing off a new location in Master Chief's next adventure.
The concept art (larger versions below) shows a UNSC ship floating above a human settlement. It might be the Infinity. That ship and its crew played a large role in the plot of Halo 4. The Infinity's one of the few ships that hasn't been destroyed in a Halo game. I assume 343 let them all live so they could have an ongoing presence in future games.
Beyond the settlement you can see silhouettes of grassy hills. What's really interesting about the scene, though, is how the sky abruptly ends in the top left corner. Is the black space in that corner supposed to be space? Are we looking at another Halo installation? UNSC forces set up bases on Installations 03 and 05 before the events of Halo 4 so it's completely possible that this location is one of those two places.
The image was made by Nicolas 'Sparth' Bouvier. Bouvier is the new art director of the Halo franchise. Before that, he was the lead concept artist for Halo. His credits also include RAGE, Assassin's Creed and Prince of Persia: Warrior Within.
Bouvier is replacing Kenneth Scott, who is leaving Microsoft so he can move to California. Scott, who will serve as Visual Design Consultant for 343, had nothing but nice things to say about his successor.
"I'm excited to hand the big pants to one of my dearest friends, Nicolas 'Sparth' Bouvier," Scott said on HaloWaypoint. "Nicolas and I have worked together for the last eight years, and we've shared a brain for most of it. He was one of my first hires to 343, and not seeing him day-to-day will feel as weird as losing a limb. I have the utmost confidence in him and I know the future is sound in his mighty fingers."
Aside from today's concept art, all we've seen of Halo 5 so far is a cinematic trailer. In the trailer, Master Chief walked alone through a desert. The short clip closed with a giant Promethean rising from the sands.
We know very little about the game at this point. We're not even sure if it's actually called Halo 5. However, Microsoft did confirmed earlier this week that it's going to hit stores by the end of 2014.
Image 1 of 4
Your Daily Blend of Entertainment News
Staff Writer at CinemaBlend.
Your Daily Blend of Entertainment News
Thank you for signing up to CinemaBlend. You will receive a verification email shortly.
There was a problem. Please refresh the page and try again.