Hearthstone Could Earn $30 Million This Year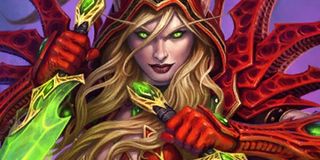 Hearthstone: Heroes of Warcraft could be a major cash cow for Activision Blizzard. One analyst estimates that the game will generate tens of millions of revenue in 2014 alone.
"Activision has announced that the player base for the title is already more than 10 million," said Sterne Agee analyst Arvind Bhatia. "We have modeled a modest $30M in revenue from this title for the year and we believe there is upside to our estimate."
Hearthstone, available on the PC and Mac since March, debuted on iPad last week in three countries. The game is currently third on the App Store download charts for games in Canada and Australia and second in New Zealand. The stats have probably been helped by all the players in unsupported regions who found out how to play anyway. After all, it's a pretty easy thing to do.
The game is free to download and play. Blizzard generates revenue by selling card packs and passes for Arena Mode for real-world money. In terms of revenue, the iPad version of Hearthstone is in the top 10 in Canada and in the top 15 in the other two countries. Bhatia says that downloads are a better indicator of popularity for a game at launch than its gross revenue, though. The more people that play the game, the better because there's a chance they'll eventually spend money.
The $30 million estimate for Hearthstone might sound high but it's just a fraction of what the top online games earn. League of Legends, another free-to-play game, raked in $624 million last year. World of Warcraft, the Blizzard MMORPG that inspired Hearthstone, made $213 million.
As Bhatia says, though, Hearthstone has plenty of upside. The game is still young so it's hard to gauge how big it's going to get. Furthermore, Blizzard's planned expansion packs could provide a dramatic boost to the game's revenue. The player population could get a huge bump once the Android and iPhone versions arrive.
Hearthstone's popularity could depend on its appeal as an eSport. Blizzard has said that they're planning features like a spectator mode and player-run tournaments to support competitive play. Last week they launched the first official season of ranked play with in-game rewards. The company plans to invite the best players to a tournament later in the year.
Bhatia is optimistic about Activision Blizzard's overall performance for 2014. He believes that Call of Duty and Skylander, two of the company's major franchises, will rebound from a sluggish 2013. He also believes that Bungie's shared-world shooter Destiny could be a billion dollar franchise. Blizzard's other new game, Heroes of Storm, may prove to be very lucrative as well. Heroes is currently in alpha but is already earning money through microtransactions.
Your Daily Blend of Entertainment News
Staff Writer at CinemaBlend.