Heavenly Sword 2 Was In Development; The Getaway 3 Footage Showcased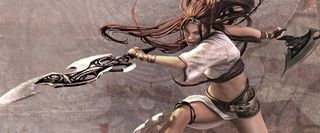 Previous rumors pointing towards a Heavenly Sword successor weren't as credible as they could have been due to speculation simply being speculation, which didn't hold any evidence. That has changed today, however, as a Heavenly Sword sequel was indeed in development at one stage.
An animation reel pertaining to a former Sony employee has unveiled footage of both unannounced and canned exclusives for the PlayStation 3 platform. In the video revealed by the staff member, who was a part of the company's Cambridge studio, he displayed footage of The Getaway 3 and a few other cancelled projects: one a lifestyle project stemming from 2007, while the other was is a science-fiction action-oriented title from last year.
The animator's CV (opens in new tab), meanwhile, has confirmed that Heavenly Sword 2 was once in development before it was cancelled during 2008. The oiginal Heavenly Sword developer, Ninja Theory, had stated (opens in new tab) the game failed to break even, resulting in the failure to acquire any operating profit made by the studio.
Sony London's The Getaway 3, another PlayStation 3 exclusive that won't see the light of day, was also cancelled during 2008 with yet another exclusive, entitled Eight Days, getting canned as well.
Your Daily Blend of Entertainment News
Your Daily Blend of Entertainment News
Thank you for signing up to CinemaBlend. You will receive a verification email shortly.
There was a problem. Please refresh the page and try again.