Horror Game The Park Coming To PS4 And Xbox One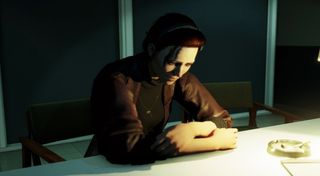 Funcom's horror game, The Park, was a small hour or so long first-person experience for PC. The game has received significant enough sales and positive feedback to convince Funcom to launch the game on the Xbox One and the PlayStation 4.
Videogamer.com is reporting that the game is scheduled to arrive sometime during the first quarter of 2016. That window would likely mean sometime around or before March, but as stated there's no solid release date yet. Some brief comments were shared about the game making the leap from PC to home consoles, with Funcom's CEO Rui Casais stating...
The Park follows a "rough around the edges" single mother named Lorraine while she attempts to look for her son in the after hours of a creepy park. It starts off with her son running through the gate in search of something he lost and it continues on as Lorraine attempts to track him down, frequently calling out to him.
A lot of people thought the experience would be like a two hour version of Heavy Rain's Shaun glitch. However, Funcom expertly designed the game so that Lorraine calls out to her son Callum based on where he is and where she is in the park. As the game wears on her voice will change to reflect the dire nature of the situation, while at the same time cluing players in on where to go and sometimes how to get there.
The whole game is rather short on actual gameplay but it's large on storytelling and characterization. The draw of the title is in its narrative and attachment to Funcom's other game, The Secret World.
The narrative driven elements of The Park actually help thoroughly flesh the game out so it helps bridge an understanding to the same park and some of the creatures featured in The Secret World. In a way, it would have been pretty cool if there was a longer, more gameplay-heavy version of something like The Park, but with ways to die or actually lose the game. I suppose it would end up being like Outlast.
Even still, Funcom seems to have found a nice little successful niche in the $12.99 game. I don't know if they should actually pursue more two hour-style narrative games with light exploration and heavy dialogue and character development, but it would be nice to see that same level of character development take place in a longer game with maybe some weapons or sneaking or hiding... maybe?
Anyway, you can look for The Park to go live on the Xbox One and PS4 some time in the early first half of 2016. PC gamers seem to have enjoyed it so maybe Funcom will find a similar kind of success on home consoles.
Staff Writer at CinemaBlend.
Your Daily Blend of Entertainment News
Thank you for signing up to CinemaBlend. You will receive a verification email shortly.
There was a problem. Please refresh the page and try again.