How Battleborn Is Trying To Battle Overwatch's Popularity During Its Release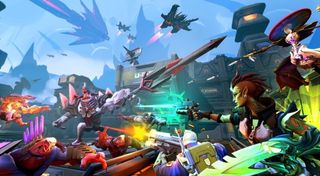 Gearbox Software and 2K Games know they have serious competition in Overwatch, so they're trying to soften the blow by having a 33% off sale on Battleborn during the release of Overwatch.
Gamespot is reporting that both Amazon and GameStop have marked down Battleborn to $40. The game regularly sells for $60 and it only just launched on May 3rd earlier in the month for Xbox One, PS4 and PC.
It's pretty obvious that Gearbox and 2K see Overwatch as a sales threat and are trying to tactically adjust to Blizzard's mammoth new IP arriving on the market for home consoles and PC.
Both games are designed in a similar fashion, combining first-person shooter gameplay with MOBA-style objectives. The biggest difference between the two games is that Battleborn has a full campaign mode with cooperative options, complete with animated sequences and comic book style presentations.
By comparison, Overwatch actually does not support a cooperative campaign mode, which is a huge disappointment for anyone who wanted to just play through the game as an offline single-player title or a story-oriented shooter. There are offline modes against bots, but no actual story mode, despite the fact that a large part of the appeal to Overwatch is in the very unique set of characters that Blizzard designed for the game.
Another big difference between the two titles is that Battleborn allows you to unlock new items and gear to equip on your hero of choice to give them an edge during battle. Players have the option of unlocking lots of different items and equipping up to three of them at a time on a single hero. This drastically changes how they're played throughout the game in both the campaign and multiplayer modes.
Overwatch does offer gamers the ability to earn loot and items by playing the game, with tons of stuff to unlock, but none of it is game changing. It's mostly stickers, voice samples, taunts, victory poses and additional skins for the characters.
By comparison, and objectively speaking, you do actually get more content and replayable single-player content in Battleborn. So if that's something that plays heavy into your purchasing decision, it's not a bad thing to consider picking up Battleborn while it's $40 off.
However, if you're really into Blizzard's titles and you just adore the look and feel of the world they crafted with Overwatch, then a 33% discount on Battleborn likely won't sway you all that much.
It definitely speaks volumes to how much of a threat 2K Games thinks Overwatch is that they would have to discount their game so much during the launch week of Blizzard's title. The only question is will the sales of Blizzard's MOBA shooter completely cannibalize Gearbox's MOBA shooter? We'll find out once the numbers roll in for the NPD released in June and July.
In the meantime, you can pick up a copy of Battleborn from Amazon or GameStop for only $40 for a limited time. Overwatch launches for $60 on the Xbox One, PS4 and PC tonight at midnight.
Your Daily Blend of Entertainment News
Staff Writer at CinemaBlend.
Your Daily Blend of Entertainment News
Thank you for signing up to CinemaBlend. You will receive a verification email shortly.
There was a problem. Please refresh the page and try again.