How I Am Setsuna Will Pay Homage To Classic RPGs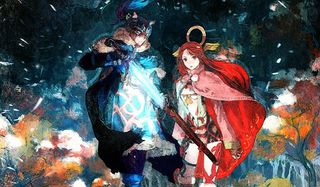 Square Enix today pulled back the curtain on I Am Setsuna, an upcoming JRPG that looks to draw inspiration from genre greats, including a battle system that pays homage to Chrono Trigger.
Originally teased by Square Enix at E3 2015, we still don't have many details on I Am Setsuna other than the fact that the developers have mentioned that the game is planned as a classic-style JRPG that will actually launch pretty soon, July 19 for the PlayStation 4 and PC via Steam.
Square Enix made these announcements with a new trailer, one that introduces potential adventurers to the world of I Am Setsuna through some rather stunning visuals and a hint of what the soundtrack will sound like.
The trailer talks about "masterpieces," while showing off images of a shipwreck and a giant clockwork mechanism somewhere really, really cold. From there, we get several more images pulled from I Am Setsuna while a narrator reveals that the masterpieces they are talking about are RPGs of yesteryear. "Let's celebrate what made these RPGs great," the voice says. "I am Setsuna." In other words, outside of having a Chrono Trigger-inspired battle system, the developers aim to plug nostalgia into pretty much every aspect of the Setsuna.
I Am Setsuna comes from Tokyo RPG Factory, a new team established by Square Enix to, as you might have guessed, make some roleplaying games. What I find most interesting is that Square Enix is going after two completely different crowds these days, and that's certainly not a complaint.
With the most recent Final Fantasy games meeting with lackluster reception, the developer has put a lot of time and attention into making Final Fantasy XV take a drastic step in a more modern direction. On the flip side of that coin are projects like Bravely Default and now I Am Setsuna. I've been saying for the past couple of years now that Bravely Default is the best Final Fantasy game to come out in a decade, adhering to more classic systems while still plugging in some fresh mechanics that make the game seem nostalgic and new at the same time. It looks like that's the exact formula the team is gunning for with I am Setsuna, as both the music and those images shown off in the trailer look like they'd actually feel right at home in Default.
As for the story, I Am Setsuna revolves around a brave young woman and her bodyguard, a pair that must make a treacherous journey and fight against overwhelming odds in order to save their home. But while the story focuses on Setsuna, you'll actually take on the lead role of Endir, a mercenary who gets sucked into Setsuna's epic tale.
We're sure fans of classic RPGs are stoked by this news and, hey, maybe it'll win over some new fans, too.
Your Daily Blend of Entertainment News
Staff Writer for CinemaBlend.
Your Daily Blend of Entertainment News
Thank you for signing up to CinemaBlend. You will receive a verification email shortly.
There was a problem. Please refresh the page and try again.