How To Play Guitar Hero Live Without A Console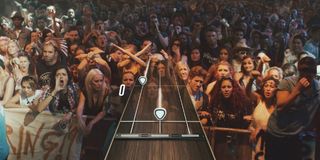 Guitar Hero Live is a key player in the movement to revitalize the rhythm gaming genre, and it looks to be leading the pack as far as innovation goes. So it's no surprise to hear that if you've got the right kind of equipment, you may well be able to play the game without even having to rely on a console.
Activision (via Gamezebo) has promised that the game will offer a gameplay experience just like that on the console without having to purchase one of the pricey gaming machines like the Xbox One or PlayStation 4, and while that may sound impossible, it's very doable with the right equipment, since the Guitar Hero Live guitar peripheral uses Bluetooth to communicate. This means that players will have to be using the right kind of Android tablet to get this done, but the possibility still exists.
This means players will be able to hook up the Bluetooth guitar controller presumably to an app with their Android tablet (no Apple devices at this time due to possible delays with AirPlay) and play along with their favorite songs (and bands, as well as music videos and a live crowd) straight from their tablets and mobile phones. Sound too good to be true? It might very well have been, if you look back only a few years prior, and there's been a whole generation of gamers to have missed out on the Guitar Hero experience, so that's plenty of time to have tweaked gameplay and mechanics enough to offer this type of play.
Let's also not forget the fact that dance game Just Dance has its own mobile app with Just Dance Now, which allows players to dance using their mobile phones and other mobile devices to track their movements for scoring, viewable on the big screen with TVs and computer monitors. It's the same experience here, except Guitar Hero Live requires that you play with plastic peripherals, like the one below, completely redone for Guitar Hero Live:
However playing via mobile device turns out, you can bet it'll be an interesting experience, especially alongside the launch of the latest iteration of Rock Band. Guitar Hero Live is expected to release this fall.
Your Daily Blend of Entertainment News