How To Transfer Data To New 3DS XL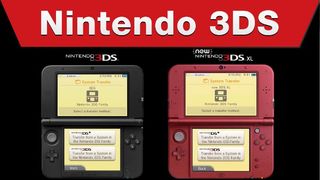 Today Nintendo announced how you can transfer data to your New 3DS XL from your old 3DS. It's not a simple process.
The company explained how to transfer the data in a new video:
If you can't watch the above video for whatever reason, here's a written version of the instructions:
How The Memory Transfer Works
The transfer will move your downloaded content, save data, Nintendo Network ID, friends list, Nintendo eShop balance, and purchase history to your New Nintendo 3DS. Other content on your old 3DS' SD card, such as pictures, will also be ported over to your new handheld.
What You Need
Your current Nintendo 3DS (or 2DS) and its SD card
New Nintendo 3DS and its MicroSD card. Your old handheld's SD card must have a smaller capacity than this MicroSD card.
Size #0 Phillips screwdriver
A computer
An adapter to connect your SD and MicroSD cards to your PC
Wireless internet access
How To Transfer Your Data
Complete the beginning setup for your New Nintendo 3DS XL and download the latest system software. Do not create a new Nintendo Network ID, because this will overwrite your old ID.
When you reach the home menu on both handhelds, select System Settings > Other Settings > System Transfer.
Select "Transfer from a System in the Nintendo 3DS Family" on each handheld.
On the old 3DS, select "Send from This System." For your New 3DS, select "Receive from Nintendo 3DS."
Follow the prompts to confirm the transfer between the handhelds.
When asked, select "Delete" to erase content on your New 3DS's MicroSD card.
Select "No" to confirm that this is the first MicroSD used on the New 3DS.
Select "Yes" to confirm you are using an SD on your old 3DS.
Press "PC-Based Transfer" to perform the process through your computer. You can also explore the "Wireless Transfer" and "Low-Capacity microSD Card Transfer" options here by clicking the question mark icons next to each.
Select "Move" on your old 3DS to begin the transfer.
Once the transfer has finished, your old 3DS's system memory will be formated. Your New 3DS, meanwhile, will restart.
Turn off both handhelds and remove their memory cards. You'll need the Phillips screw driver here to remove the back panel on the New 3DS to get the MicroSD card.
Connect the SD card to your computer and copy the folder called "Nintendo 3DS" to your hard drive.
Connect the MicroSD card to your computer and copy that folder over to the card.
Place the MicroSD card back in your New 3DS. Screw the back panel back into place. Turn the handheld on.
How To Transfer Data If It Won't Fit On The MicroSD Card
The New 3DS XL comes with a 4GB MicroSD card. If the data on your current 3DS won't fit on that card, you'll only be able to transfer save data. You can then download other data from the Nintendo eShop for no charge. Another option is to simply buy a larger MicroSD card for your 3DS XL.
What To Do If You Don't Have Your Old 3DS
If your old handheld no longer works or you don't have it anymore (e.g. you traded it toward your purchase at Gamestop (opens in new tab)), Nintendo recommends that you contact customer support.
Staff Writer at CinemaBlend.
Your Daily Blend of Entertainment News
Thank you for signing up to CinemaBlend. You will receive a verification email shortly.
There was a problem. Please refresh the page and try again.