IPI Motion Capture Software 2.0 Arrives This Spring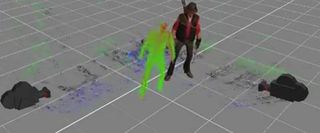 If you're looking for a cheap motion capture solution for a budget-priced game project, then iPi Software definitely has a solution for you with their Motion Capture 2.0 toolset, which will be available this spring.
Michael Nikonov, founder and chief design architect for iPi Soft, commented in the press release, saying...
The highlight of the software is that users are capable of using two Xbox Kinect devices to capture full 3D, motioned-based movements or you can use four to six PlayStation EyeToys for the same results.
It's pretty awesome being able to do motion-captured movements either for game characters or cinematics right from the comfort of your own design space, as opposed to relying on a big budget studio or Hollywood outfit.
Version 2.0 of iPi's motion capture software suite will be available in late spring and gamer designers who need more info on pricing and availability can head on over to the Official iPi Website to learn more about their motion capture software.
Staff Writer at CinemaBlend.
Your Daily Blend of Entertainment News
Thank you for signing up to CinemaBlend. You will receive a verification email shortly.
There was a problem. Please refresh the page and try again.