Injustice: Gods Among Us GOTY Edition Coming To PS4, XB1, PC, PS Vita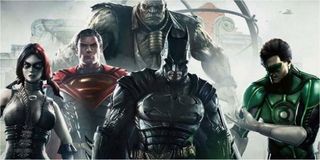 We reported earlier this year that Injustice: Gods Among Us Game of the Year Edition was coming to PC and PS Vita. What we didn't know was that the game is also being designed to appear on the Xbox One and the PlayStation 4, too.
Stickskills caught the tweet from Lifelower, when an image of the Brazilian ratings board listed the game for the available platforms, including current-gen consoles and next-gen consoles and PC.
The game GOTY edition will arrive for the Xbox 360, PS3 and Wii U first and then it will be followed by the PC, PS Vita, PS4 and Xbox One rendition. The game will contain all the previously released DLC as well as further tweaks, improvements and hopefully balancing so that it will be better received at EVO 2014 compared to the original release of Injustice.
Anyway, the original hint at the GOTY edition for Injustice: Gods Among Us arrived back in July, hinting that it would be arriving later this year. What we didn't know was that the game would be arriving for more than just PC and the PS Vita, but that a next-generation rendition of the game would be in the works. This is great news for PS4 and Xbox One owners who would be lacking fighting games to flesh out their library.
There's also that fighting game on the Xbox One from Ubisoft called The Fighter Within, but it's a Kinect 2.0 fighting game and while it shows promise everyone kind of treats it like some worthless stepchild you send to military school and when they come out they make partying their life's goal and most people would rather forget that kid ever existed. That's not to say that the kid doesn't have potential, it's just... yeah, Injustice is the kid that got good grades in school and shows promise so you would rather spend more time with that kid instead.
But back to Injustice... the game features all of the popular DC Universe heroes and villains in a one-on-one, story-based fighting game that comes with plenty of mini-games, challenges and multiplayer competitive modes.
Injustice will mark the second fighting game from Warner Bros. Games to arrive on PC, following in the footsteps of their very popular and well-received Mortal Kombat: Komplete Edition, which arrived for PC on Steam with flying colors.
Other publishers are also experimenting with releasing fighting games on, including SNK Playmore with their recent King of Fighters XIII and Namco Bandai with Ultimate Naruto Shippuden. Now someone just needs to convince Namco to port Tekken Tag Tournament 2 and fighting game fans on PC will be in heaven. Oh yeah, and Sega-Atlus will just need to publish Arc System Works' Guilty Gear Xrd -SIGN- for Steam and then it will be complete.
In the meantime, you can look for Injustice's GOTY edition to arrive sometime this holiday season, if I had to hazard a guess. We'll keep you posted.
Your Daily Blend of Entertainment News
Staff Writer at CinemaBlend.