Intel i7 Powered Razer Blade Gaming Laptop Announced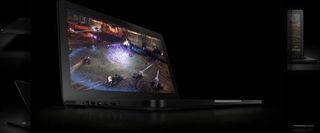 Remember Razer was going on and on about the decline in quality and integrity within the PC market with their campaign, PC Gaming Is Not Dead? Well, the results of that campaign has come to fruition and it's an ultra-fast, ultra-light, aluminum cased high-end gaming laptop.
The Intel i7 powered processor runs an Nvidia Geforce series graphics card on a whopping 17' screen.
Min-Liang Tan, CEO and Creative Director, Razer commented in the press release about the announcement, saying…
What's more is that the Razer Blade will feature Razer's intuitive Switchblade user interface, enabling gamers to make use of 10 adaptive tactile keys for in-game commands, quick switching from a mouse to an ultra-sensitive touch-pad, as well as easy-to-read LCD.
Some gamers might be questioning where the whole gaming laptop thing comes from and it has everything to do with Razer feeling that publishers treat PC gamers like second-rate consumers, porting over games from consoles that are buggy and sometimes unplayable, riddled with DRM (with games like From Dust fitting this description to a T) and that most PC manufactures are abandoning the forefront in search of finding better ways to profit in today's marketplace, potentially including HP.
Hopefully Razer's new gaming laptop isn't the only one of its kind and the company will find some success in the gaming hardware department to branch out with more options and a wider diversity of PCs.
You can learn more about Razer and the announcement of the Razer Blade by visiting the Official Website. The new gaming laptop is set for release in the fourth quarter of 2011.
Product Specifications:
• 2.8GHz Intel Core i7 2640M Processor
• 8GB 1333MHz DDR3 Memory
• 17.3" LED Backlit Display (1920x1080)
• NVIDIA GeForce GT 555M with NVIDIA Optimus Technology
2GB Dedicated GDDR5 Video Memory
• Built-in HD Webcam
• Integrated 60Wh Battery
• 320GB 7200rpm SATA HDD
• Wireless Network 802.11 b/g/n Compatible
• 16.81" (Width) x 10.9" (Depth) x 0.88" (Height); 6.97lbs (Weight) • SRP $2799.99
Staff Writer at CinemaBlend.
Your Daily Blend of Entertainment News
Thank you for signing up to CinemaBlend. You will receive a verification email shortly.
There was a problem. Please refresh the page and try again.