Interstellar Marines Co-op Prequel Game To Arrive On PSN, XBLA Before Full Game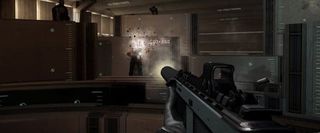 Considering that an official release date is a ways off for the upcoming first-person, sci-fi shooter from Zero Point Software, the developers have decided to whet the appetites of gamers with a cooperative back-story prequel game that will explain the story for the main game. What's more is that this prequel game of sorts will make an appearance on Steam, XBLA and PSN Before the main game arrives.
Kim Haar Jørgensen, the lead game designer on Interstellar Marines, revealed in an interview we conducted with him that…
That certainly sounds good to me. I love hold-me-off titles that give us a small taste of something bigger. Diehard fans should maintain their excitement, though, because Zero Point would still need a publisher to get the prequel on Xbox Live Arcade given Microsoft's XBLA rule of no publisher, no publishing".
Right now gamers can already get a small sampling of the shooting and movement mechanics with the Running Man and Bullseye mini-games, which are currently available to play for free on the Interstellar Marines Official Website.
Your Daily Blend of Entertainment News
Staff Writer at CinemaBlend.
Your Daily Blend of Entertainment News
Thank you for signing up to CinemaBlend. You will receive a verification email shortly.
There was a problem. Please refresh the page and try again.