Jedi Academy, Jedi Outcast Source Code Now Available To The Public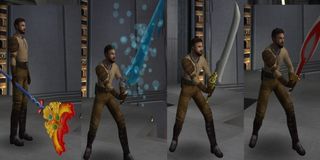 Want to design the Star Wars game of your dreams? Well, now you can. Raven Software has released the source code to the Dark Forces games, Jedi Academy and Jedi Knight II: Outcast. With the code now available to the masses, the only thing stopping anyone from making an open-source, free-to-play game is drive and imagination.
As noted on Blues News, this move to allow developers, enthusiasts and gamers alike to gain access to the code(s) comes on the heels of Disney shutting down the game development branch of LucasArts, effectively killing any chance of Star Wars: First Assault, 1313 or Battlefront 3 from releasing anytime soon. The subsidiary will now only handle licensing.
Raven Software, the makers of the latter Jedi Knight games, made a few comments to Kotaku Australia about the demise of LucasArts, saying...
This is great news – not for the people who lost their jobs at LucasArts – as this will surely reinvigorate interest in the Jedi Knight games once more. The series already has a very bustling mod scene, but with the ability to create brand new gaming experiences with access to the source code, the sky is the limit to what the community can churn out having access to more than just the mod tools.
If you're interested in getting your hands on source code for Jedi Outcast and Jedi Academy, be sure to visit Source Forge.
Staff Writer at CinemaBlend.
Your Daily Blend of Entertainment News
Thank you for signing up to CinemaBlend. You will receive a verification email shortly.
There was a problem. Please refresh the page and try again.