Jet Set Radio HD Coming To Xbox 360, PS3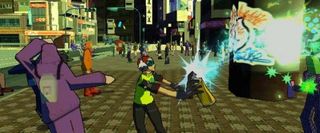 Who would have thought that Sega actually listens to fans? Well, they do. In a strange twist of fate Sega released a new teaser trailer pointing to a remake of Jet Set Radio for the Xbox 360's Live Arcade and the PS3's Sony Entertainment Network.
The news comes courtesy of The Gaming Liberty who found the teaser that Sega posted to their official YouTube account. I'm a little baffled why Sega didn't send the teaser out in a brief press release teaser. It kind of makes us feel unwanted. You can check out the teaser below.
The original Jet Grind Radio made waves as an early release on the Sega Dreamcast back in 2000, it was later followed up with a pseudo-sequel on the original Xbox with Jet Set Radio Future, which created its own little cult following. The game was famous for its counter-culture soundtrack and over-the-top approach to graffiti and extreme sports. It was a unique game, to say the least.
The Xbox version of the game sported split-screen multiplayer, a number of races and additional game modes. I'm curious if Sega will carry those features over into the SEN/XBLA version of Jet Set Radio or if it will be a direct remake of the Sega Dreamcast original? I guess time will tell.
We'll keep you posted on additional news and info regarding the upcoming game.
Staff Writer at CinemaBlend.
Your Daily Blend of Entertainment News
Thank you for signing up to CinemaBlend. You will receive a verification email shortly.
There was a problem. Please refresh the page and try again.