Just Cause 3 Launch Trailer Is Way Stranger Than You'd Expect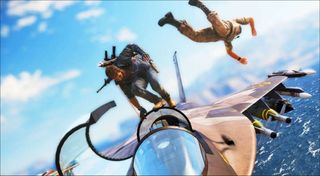 Avalanche Studios decided to go a completely different route with the marketing of Just Cause 3 when it came to picking a launch trailer. Instead of just relying on something you would see on TV that you might equate to a Michael Bay movie, they decided to pick a fan-created trailer and it's stranger than you'd expect.
The trailer clocks in at only a minute and 35 seconds and it was made by CoolTwinSkittles. Check it out below from the official Just Cause YouTube channel.
The trailer is kind of bizarre. While it does highlight the extreme explosion fetish that Rico Rodriguez has when it comes to causing destruction, it's done in a way that some gamers have found to be cringe-worthy. The rap is quite tame but it's put against a pretty cool collage of different types of explosions occurring throughout the world of Medici.
The video above from CoolTwinSkittles managed to beat out more than 1,200 separate entries that were submitted to the fan-trailer contest. Avalanche Studios took a lot of time and effort to pick just the right kind of trailer to show off their game. The thing is, it's not actually a bad trailer when looking at it from the perspective of people who don't know what the game is about. While it does a poor job of defining the characters, any non-gamer looking at playing Just Cause 3 with a lot of senseless, over-the-top explosions would see a trailer like this and instantly know what kind of game it is.
Of course, Avalanche Studios could have gone with a more traditional trailer, one that attempts to win an award by getting serious and showing a more "human" side to the affairs of Medici, but I don't think that would be an honest depiction of Just Cause 3.
The developers also could have gone with something a bit more avant garde... something artistic and out in left field. Of course then they would have to deal with a bunch of people claiming that the whole art-over-substance approach would fail to properly convey to the audience the kind of game that it is.
I can't really fault their choice because when you're dealing with millions of people there really is no such thing as winning with everyone. However, they did go a route that wouldn't be out of the wheelhouse of Volition Studios and the Saints Row series, so it's not all bad. Besides, this odd pick has managed to get the game trending on Twitter for a bit and has a lot of people talking about it. So it's definitely a win for them in that regard.
The game itself sees Rico Rodriguez returning to his home only to find that a dictator has taken over. He's resolved to winning back the country by destroying all of the General's outposts and military installations while helping the people rise up and fight back against the General's forces using lots of explosions.
Just Cause 3 is set to release tomorrow on December 1st for the Xbox One, PS4 and PC.
Staff Writer at CinemaBlend.
Your Daily Blend of Entertainment News
Thank you for signing up to CinemaBlend. You will receive a verification email shortly.
There was a problem. Please refresh the page and try again.