How Just Cause 3 Developers Are Helping Final Fantasy 15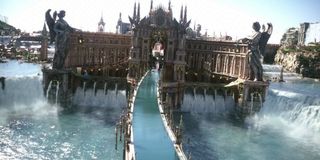 Just Cause developers Avalanche Studios (the same behind the upcoming Until Dawn) are working on a technical collaboration with Square Enix on Final Fantasy XV.
Siliconera reports that both of these mammoth creators are behind the upcoming Japanese role-playing game, and it's a bit surprising to hear about the collaboration, to be honest, especially coming from Tabata-san himself. According to him, the technology that Just Cause implements for aerial control is seamless and unique, as well as something that's just not seen very often in the games industry.
Tabata shared his thoughts on Avalanche's aerial mechanics in the Active Time Report interview:
High expectations is right, especially with how long it seems it's going to take for Final Fantasy XV to actually release. It's taking a lifetime and a half, and it could hopefully, possibly be out by next year, but we still have no real idea of a release date. But at least it looks as though there's going to be plenty to look forward to when the game finally does release. Hajime Tabata is interested in some very awesome things for the upcoming game, like multiple airships that can fly around in full-scale:
We haven't had the experiences with airships we'd like to have had in Final Fantasy thus far, only able to explore the overworld in a rudimentary manner with the ship and surrounding areas scaled down, so this would be an interesting development. If this were something that could indeed be slotted into the game now or later down the road, it'd be something many Final Fantasy fans are excited for, myself included.
The details continue to trickle out as Final Fantasy XV marches toward completion, but unfortunately we're just left with bits and pieces of excitement thus far. Hopefully we'll have something concrete to look forward to soon.
Your Daily Blend of Entertainment News
Thank you for signing up to CinemaBlend. You will receive a verification email shortly.
There was a problem. Please refresh the page and try again.