Just Cause 3 System Requirements Announced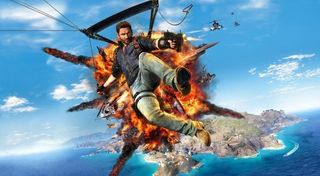 Avalanche Studios released the official system specifications for the PC version of Just Cause 3. They are and are not what you may have been expecting. The minimum requirements are definitely a lot higher than a few PC gamers were comfortable with, but the recommended settings weren't quite as steep as some other games.
Over on the Steam community page there's an update for Just Cause 3, rolling out the minimum and recommended specs for your PC. You can check them out below.
Minimum Specifications
OS: Vista SP2, Win 7 SP1, Win 8.1 (64-bit Operating System Required)
CPU: Intel Core i5-2500K, 3.3 Ghz | AMD Phenom II X6 1075T 3 Ghz
Memory: 6GB RAM
Graphics: NVIDIA GeForce GTX 670 (2GB) | AMD Radeon HD 7870 (2GB)
Recommended Specifications
OS: Vista SP2, Win 7 SP1, Win 8.1 (64-bit Operating System Required)
CPU: Intel Core i7-3770, 3.4 GHz | AMD FX-8350, 4.0 GHz
Memory: 8 GB Ram
Graphics: NVIDIA GeForce GTX 780 (3GB) | AMD R9 290 (4GB)
So what was it about the specs that got everyone up in arms for Just Cause 3? Well, the minimum CPU requirement is an i5-2500k, which is no laughing matter. If you don't have an i5 it may be a very unpleasant time for you attempting to play Just Cause 3 on PC. Worse yet is that you'll also need a minimum of 6GB of RAM. You don't have 6GB? Tough luck, the game might chug along like Thomas the Tank Engine.
The GPU requirement of a 2GB VRAM GTX 670 is also the sort of thing that will leave a lot of people with their mouths open and their eyes peeled back into their heads. The major issue is that a GTX 670 is no slouch and gamers will have to have a fairly high-end PC just to hit the minimum specifications for Just Cause 3.
Things don't get any easier as the specs scale even higher for Avalanche Studios' open-world title, with the CPU requirement bumping up to an Intel i7 and the RAM requirement going up to 8GB. The GPU requirement for the open world title is also no laughing matter, with the GTX 780 being the recommended card to get the job done.
Speaking of getting the job done, gamers actually do have a problem with this: they don't know what the specs mean.
It's true that the minimum requirements are steep but is that minimum requirements to play the game at 1080p and 60fps? Or is that minimum requirements to play the game at 720p and 30fps? Are the recommended specs to play the game at 4K and 30fps? Or are those recommended specs to max the game's settings out at 60fps?
The Steam community threads are a bit funny in that way, as they attempt to decipher what the specs mean and what sort of performance they'll be able to get out of the game. Many pointed to the smooth-running Mad Max as a game that ran fine even on hardware lower than the minimum requirements, so some fans of Avalanche Studios tried assuring others that the minimum requirements can be skirted in some ways to still get decent playability out of the title.
Anyway, Just Cause 3 launches on December 1st for the Xbox One, PS4 and PC.
Staff Writer at CinemaBlend.
Your Daily Blend of Entertainment News
Thank you for signing up to CinemaBlend. You will receive a verification email shortly.
There was a problem. Please refresh the page and try again.