Kingdom Hearts 3 Won't End The Series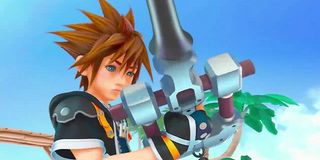 Rumor had it that Kingdom Hearts 3 would finalize Sora's 10-year adventure of teaming up with Disney and Final Fantasy characters in order to take on Organization 13 and its Heartless minions. It looks like the series won't be riding off into the sunset just yet, however, as a new interview with director Tetsuya Nomura reveals there's plenty more "heart" left in this kingdom.
The original Kingdom Hearts released back in 2002 for the PlayStation 2, introducing players to a magical world (or worlds, really) where original characters, Disney characters and characters from the Square Enix universe could overlap. It was a novel idea, letting characters interact with familiar stories, team up with fantasy legends and even see Mickey Mouse fly around the screen in a wicked-cool trench coat, laying waste to shadowy monsters. It basically took the things many of us grew up with and injected them into a more mature game that let us fall in love with the characters and worlds all over again.
Kingdom Hearts 2 followed in 2005, continuing main protagonist Sora's story and introducing quite a few new players to boot. Since that time, a handful of spin-offs have released for mobile and portable consoles, including the fantastic Dream Drop Distance for the PSP, Chain of Memories for the Game Boy Advance and the most recent offering to date, Dream Drop Distance for the Nintendo 3DS.
Each game in the series added to the admittedly convoluted story, introducing even more characters and plot twists, abilities, interesting game mechanics, etc. An HD remake of three Kingdom Hearts games is nearly ready to launch on current consoles, and I'm thinking that will be followed by another collection sometime in the future. That's just speculation but, when you release a game that has one main plot title and two spinoffs, and there just happens to be another main plot game and two spinoffs readily available, a second HD offering doesn't seem like too much to expect.
This will of course lead us to Kingdom Hearts 3, which was announced during E3 2013 as being on a collision course for the PlayStation 4. Given how little of the game was shown and that it was simply stated to be "currently in development," we're probably going to be waiting a while on this one.
However, as the Los Angeles Times are reporting, we shouldn't expect this to be the final entry in the series, or even necessarily the last appearance of Sora and his growing group of friends, which has expanded quite a bit over the years. Apparently Nomura "bristled" when he heard the word "trilogy" used, stating that there was more Kingdom Hearts planned for the future.
"As a core game, this is finally the third, and 10 years have passed," Nomura said. "I couldn't call this a trilogy...In Kingdom Hearts 3, the battles that the characters have been fighting for the past 10 years will come to a conclusion. That is the plan. But the series will continue. Only the particular enemy they have been fighting the past 10 years will come to an end."
Your Daily Blend of Entertainment News
Staff Writer for CinemaBlend.