Kingdom Hearts Hd 1.5 ReMIX Offers Pre-Order Artbook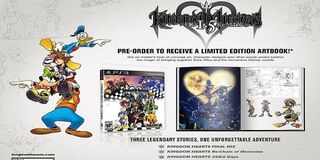 It's been a long, long, long-long-long time coming, but Kingdom Hearts HD 1.5 ReMIX is finally headed to a PlayStation 3 near you and, if you pre-order this three-game collection early enough, you'll also swipe yourself a limited edition artbook in the process.
Arguably one of the most beloved franchises from the PlayStation 2 era, fans of Kingdom Hearts have been clamoring for a new console addition to the series for quite a few years. While I think said fans had something like Kingdom Hearts 3 in mind, an HD remake of three of the series' games will just have to do for the time being.
Set to release on Sept. 10 for the discounted price of $39.99, Kingdom Hearts HD 1.5 ReMIX will offer shiny new versions of the original Kingdom Hearts Final Mix, Kingdom Hearts Re: Chain of Memories, and Kingdom Hearts 358/2 Days, all with their own set of trophies. Re: Chain of Memories is a remake of a Game Boy Advance title while 358/2 originally released on the Nintendo DS.
I'm going to go out on a limb here and say that another Kingdom Hearts collection could very well be in the works, likely offering the second game in the series, as well as Birth by Sleep and Dream Drop Distance. This is, of course, only speculation. But given the upcoming collection, it sure would make a heck of a lot of sense to continue the trend.
But back to the pre-order details! If you snag a copy of HD 1.5 ReMIX from un-named participating retailers nice and early, you'll also net yourself the game's artbook, featuring early concepts, final works, sketches, renders and more from Director Nomura Tetsuya.
So check with your retailer of choice to see if they're offering the pre-order deal and, if so, act quickly. According to the official announcement, supplies are limited.
Staff Writer for CinemaBlend.