Kingdom Hearts HD 1.5 Remix Screenshots Released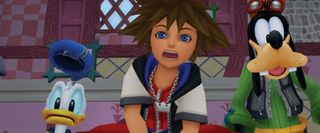 A new set of screenshots have surfaced for Square Enix's upcoming release of Kingdom Hearts HD 1.5 Remix. The shots showcase the game's complete HD overhaul for today's generation of HD consoles, including all sorts of images featuring both Disney and Square's iconic heroes, heroines and villains. The game is looking surprisingly good and captures both Square's and Disney's aesthetics.
As many of you already know, Kingdom Hearts HD 1.5 Remix has not been announced for release outside of Japan. The game is – for as far as anyone can tell – destined to sit out a PAL and NTSC release. This means that both Europeans and North Americans won't be able to enjoy the luxuries of HD 1.5 Remix.
There was some positive news recently that English voices would be included in the game, which should lend itself to the belief that a release outside of Japan is imminent, however Square has made no mention or announcement about such a release.
For now, as noted by Game Ranx, Kingdom Hearts HD 1.5 Remix is set for release on March 14th, 2013 exclusively for the PlayStation in Japan only. The package will include both Kingdom Hearts Final Mix and Re: Chain of Memories with interspersed HD cinematics from Kingdom Hearts 358/2 Days. It doesn't matter, though, because you won't be playing the game regardless...unless you import it. In the meantime, you can assuage your tears with some beautiful shots of Kingdom Hearts HD 1.5 Remix below.
Image 1 of 28
Your Daily Blend of Entertainment News
Staff Writer at CinemaBlend.