Kingdom Hearts HD 1.5 Remix Details Announced, Has English Voice-Overs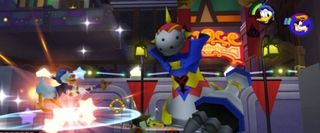 Square Enix hasn't announced new details for Kingdom Hearts HD 1.5 Remix but retailers and Jump Festa attendees managed to squeeze some juicy details out of the event, including that the game will have English voice-over options and completely revamped HD models, textures and high-resolution graphics.
First up, Kingdom Hearts Insider is reporting that special skills have been moved to the triangle button. There have been a "combo master" feature added. Trophy support has been added. Camera controls are relegated to the right analog. Custom PS3 themes will also be included for those who beat the titles. Summons have been moved to the 4th command slot and "speech" is now optional between English and Japanese.
The last part is further corroborated from Gematsu who had confirmation from Japanese retailers that there will be a Japanese or English voice-over options available. Does this confirm a North American or European release? Hardly. Square hasn't announced an actual release outside of Japan and the release date is drawing ever-so-near with the March, 2013 ship date fast approaching.
There are a number of other things revealed over at Gematsu and KH Insider if you want a full rundown of what's available. We'll keep you posted if Square Enix ever decides to make an announcement for a full fledged, localized release outside of Japan. Until then, don't keep your hopes up and keep tabs on your local import shop if you're serious about getting your hands on Kingdom Hearts HD 1.5 Remix.
Staff Writer at CinemaBlend.