Konami Offers Half-off Halloween Sale On Three PSN Games And DLC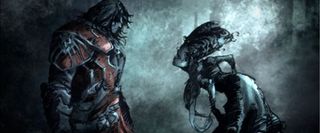 Halloween is nearly upon us, making this the perfect time to dive into some spooktacular gaming goodness. If you're looking for the right mix of monster mayhem to keep your holiday appropriately blood-soaked, then Konami might have just the deal for you. For a limited time, three of the publisher's PlayStation Network titles and all of their DLC are being marked down by 50 percent in celebration of Halloween.
For the next two weeks, Konami is offering deep discounts on some of its most horrifyingly appropriate All Hallow's Eve fare, giving gamers plenty of zombies, vampires and various other types of creatures of the night to mow through in the closing days of October.
First up is Zombie Apocalypse: Never Die Alone. Like everything else in this promotion, ZA has had its price tag slashed in half, along with its DLC pack, "Pure Pwnage."
Next up is Castlevania: Harmony of Despair, the anachronistic four-player side-scrowling title that lets players team up as their favorite series heroes while wiping out the monster threat in multiple massive dungeons. The game proper is half off, along with its four additional character packs and the four additional maps.
Finally, the latest game in the Castlevania console series, Lords of Shadow, will have its DLC marked down by half. Both the Resurrection and Reverie DLC packs offer brand new environments and baddies for players to enjoy, as well as additional story content that bridges Lords of Shadow with its upcoming sequel.
To take advantage of these deals, just head on over to the PlayStation Network store and start downloading everything at 50 percent off.
Staff Writer for CinemaBlend.
Your Daily Blend of Entertainment News
Thank you for signing up to CinemaBlend. You will receive a verification email shortly.
There was a problem. Please refresh the page and try again.