League Of Legends Team Builder Revamps Matchmaking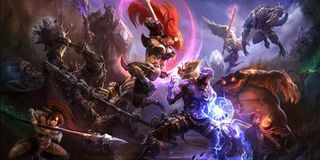 Riot Games will be introducing a new type of queue to League of Legends in the near future. The Team Builder feature allows players to queue up for a specific role, champion or positions for online matches and be teamed up with players that have compatible preferences.
"How often have you logged on to League of Legends and thought, 'I just want to play Renekton today.' Or maybe you want to try a new strategy but can't find four friends to premade with," Riot said on their forum. "We're always asking how we can make the League of Legends experience better, and one thing that comes up a lot is how players want to feel like they're in control of their pre-game experience."
Currently LoL matches up players based on their skill rating. Then, in a short amount of time, these strangers have to choose their Champions and their lane. Sometimes this hurried strategy session works, sometimes it doesn't. If two players want to be Zed or both want to be the jungler, there's going to be a problem. Riot hopes that the Team Builder will allow players to forgo this process and quickly find compatible teammates.
"Team Builder is intended to bring players together that complement each other's expectations and intentions from the moment they enter the lobby. When everyone's aligned on who will be going where and playing what, the only thing left to figure out is how to dominate the opposition."
This feature is part of a wider effort by Riot Games to make LoL matchmaking smarter. As mentioned earlier, the system currently brings together players of similar skill levels. However, Riot will be rolling out a new matchmaking system with Team Builder that takes into account your experience with certain roles, positions or champions. If you're playing Jinx for the first time, you'll be matched differently than you would if you were a seasoned pro with her.
Riot will release the Team Builder and matchmaking changes through the Public Beta Environment soon. Team Builder will be a separate queue at first while Riot evaluates it. The developers say they're considering using it for ranked matches but that decision will depend on player feedback.
Image 1 of 2
Image 2 of 2
Staff Writer at CinemaBlend.
Your Daily Blend of Entertainment News
Thank you for signing up to CinemaBlend. You will receive a verification email shortly.
There was a problem. Please refresh the page and try again.