Legend Of Zelda: Ocarina Of Time Launches On Wii U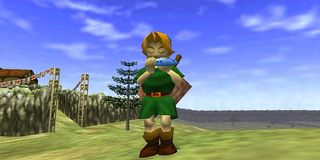 Considered by many to be the best game in the entire series, The Legend of Zelda: Ocarina of Time finally makes its way onto the Wii U eShop as part of the regularly scheduled weekly update.
You heard that right: Wii U gamers can finally get their hands on the Nintendo 64 classic, the first Zelda game to ever leap into the third dimension. Just like Mario 64 before it, though, Ocarina of Time stuck the landing on its first try, offering a classic adventure that folks still rave about to this very day.
In case there's some confusion, I should probably mention that this is not a digital copy of the recently released remastered version of Ocarina of Time for the Nintendo 3DS. This is the original game, brought to you exactly as it was back in olden times. It may not look as pretty as its new sibling, but even without the reworked areas and spruced up controls, the original still stands the test of time.
In case you've forgotten what the original version of the game looks like, here's one of the original trailers for Ocarina, which boasts a surprising (and pretty hilarious) bit of snark.
Ah, memories.
This is only the most recent of multiple big announcements coming out of Club Link. Recently revealed during E3 2015, the Hyrulian warrior has two more adventures currently heading toward the 3DS, including the multiplayer-focused The Legend of Zelda: Tri Force Heroes, and the slightly scaled down version of the Wii U hit, Hyrule Warriors: Legends. Of course, there's also that brand new fully-fledged Zelda game that's currently in release date limbo, which doesn't actually have a name just yet.
If, however, you're not in the mood to tackle Ocarina of Time this week, then your eShop options are actually pretty slim on both Nintendo's handheld and home consoles.
Only two games made it onto the 3DS eShop this week, including Samurai Warriors Chronicles 3 and Mercenaries Saga 2. Over on the Wii U, you can get your hands on Roving Rogue or Quadcopter Pilot Challenge.
There are also a handful of sales available, in case you're looking to celebrate Independence Day by saving a buck or two.
Wii U gamers can enjoy discounts on games like Bombing Bastards, Ittle Dew and Plenty of Fishies, while gamers on the go will enjoy discounts on a couple of Phoenix Wright games and a few other smaller titles.
Your Daily Blend of Entertainment News
Staff Writer for CinemaBlend.