Legend of Zelda: Wind Waker's Map Recreated With Legos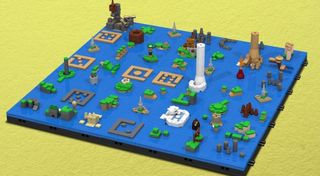 Legend of Zelda: Wind Waker is one of those games where the gaming community just can't get enough of it. In fact, the game managed to get a re-release on the Wii U following its massive success on the GameCube. Some creative gamer decided it was in their best interest to then recreate the Wind Waker map out of Legos.
Destructoid picked up the news when a series of images began floating around over on imgur featuring the Wind Waker map.
According to the article, the map is actually designed out of 1,900 individual Lego pieces using the Lego Digital Designer Software. If you head over to the official Lego website you won't find a whole lot of information about the Digital Designer, other than that you can download it and check out images in a new and improved gallery. The general gist is that you can use the designer to build Lego creations without actually needing Legos.
Someone decided to rebuild the entire map from Legend of Zelda Wind Waker using the Digital Designer in order to share their creativity with the world. An imgur gallery is available that houses a full look at the map and some of the details added to th emap to bring the whole thing to life.
This isn't the first time that games have managed to jump out of the digital screen and into real life. Just recently a Heroes of Newerth map was recreated in Legos by the Tencent team. As noted on MMO Culture, the Caldavar map was completely recreated out of 526,372 Lego blocks. That is absolutely impressive.
As for The Legend of Zelda... following on the success of Wind Waker's HD release on the Wii U, Nintendo is already hard at work on the next installment of the popular brand with an open-world, cel-shaded adventure set for release in 2015 for the Wii U.
The upcoming game has been receiving a ton of buzz due to its amazing graphical detail, the ability to fight while riding on Epona, as well as many open-world gaming elements that were previously only found in games like Skyrim, Harvest Moon or Grand Theft Auto.
I doubt that we'll be seeing a new Wind Waker game any time soon. But if fans really want to get more out of the game world, they can always do what one gamer did and recreate various isles in excruciating detail in order to satiate their desire to see their favorite game world brought to life.
Your Daily Blend of Entertainment News
Staff Writer at CinemaBlend.