The Legend of Zelda: Skyward Sword Trailer Explores Connections To Ocarina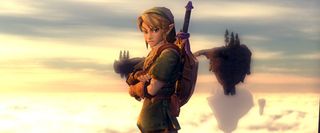 This week on GameTrailers TV, Nintendo aired a new trailer for The Legend of Zelda: Skyward Sword. The trailer examines some of the links between Sword and N64 classic Legend of Zelda: Ocarina of Time.
Sword is actually a prequel to Ocarina. Link lives is Skyloft, a cluster of flying islands. He eventually acquires the Skyward Sword, which allows him to travel to the surface world and back. Eventually he'll face Ghirahim, a demon lord who (naturally) wishes to kidnap Zelda.
The trailer has no speech or text so it's up to the viewer to glean the connections between the games. In one shot, it looks like the Skyward Sword is transformed into the Master Sword. That's the only freebie I'll give you, though. Examine the video for yourself.
Skyward Sword will launch on November 18th in Europe and on November 20th in North America.
Get More: GameTrailers.com, Zelda: Skyward Sword - Exclusive Origins Trailer, PC Games, PlayStation 3, Xbox 360
Staff Writer at CinemaBlend.
Your Daily Blend of Entertainment News
Thank you for signing up to CinemaBlend. You will receive a verification email shortly.
There was a problem. Please refresh the page and try again.