Lego Pirates Of The Caribbean Announced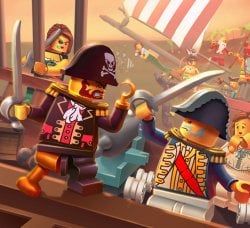 With Harry Potter, Indiana Jones and Star Wars all covered, it was time for Lego to move on to new themed territory, so why not Disney's Pirates of the Caribbean? Disney, the Lego Group and TT Games announced that the new Lego-based Pirates game will release with the movie Pirates of the Caribbean: On Stranger Tides sometime in May, 2011 for most major gaming platforms.
Graham Hopper, executive vice president and general manager, Disney Interactive Studios commented in the press release about the new movie-based, Lego game, saying…
As usual, the game will feature buildable segments, alterable environments and the ability to beat the Legos off someone and take them for yourself. The game will follow storylines and feature characters from all previous three Pirates of the Caribbean movie, along with elements and themes present from the upcoming movie, On Stranger Tides.
You can, of course, learn more about the upcoming Lego Pirates of the Caribbean by visiting the Official Website.
Staff Writer at CinemaBlend.
Your Daily Blend of Entertainment News
Thank you for signing up to CinemaBlend. You will receive a verification email shortly.
There was a problem. Please refresh the page and try again.