Lego Star Wars: The Yoda Chronicles Is The Free iOS App You're Looking For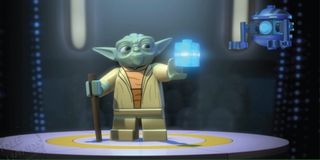 Boredom leads to playing with your cell phone. Playing with your cell phone leads to searching for new games. And, come May 4th, searching for new games will lead to Lego Star Wars: the Yoda Chronicles, a new action game headed to iOS.
The Lego Group recently announced that, in celebration of Star Wars Day on May the Fourth (Get it!), the publisher will be releasing its latest game, The Yoda Chronicles free on iDevices. These Lego games tend to do quite well, so we're imagining that a free one is going to go over just fine on iOS.
In The Yoda Chronicles, players will be able to take on the role of the pint-sized Jedi himself or Count Dooku, giving access to both Light and Dark sides of the game. A sort of strategy adventure hybrid, players will take part in real-time laser battles, explore dungeons, compete in lightsaber duels and even enjoy some space combat. The game will contain 15 main levels, half of which will be available on May 4th for iOS and the other half becoming available this summer when the game finally launches on Android.
Along with the campaign, players will be able to play five mini-missions for better pick up and play options, which tasks Yoda or Dooku with defeating as many enemies as possible. Doing well in these levels will up your stats and abilities in the campaign.
The Yoda Chronicles will also boast 20 achievements and the ability to search for secret codes hidden throughout the Chronicles of Yoda mini-movies and website to unlock bonus units, perks and content. You can start plowing through that content and searching for codes whenever you feel like it.
As for the game itself, download it free of charge to iOS (or just play it on the above linked website) on May 4th.
Staff Writer for CinemaBlend.
Your Daily Blend of Entertainment News
Thank you for signing up to CinemaBlend. You will receive a verification email shortly.
There was a problem. Please refresh the page and try again.