Liberty City Stories, ICO Hit PlayStation Plus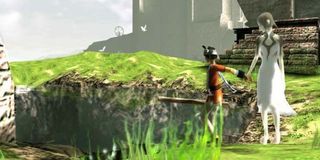 This week's PlayStation Plus offerings seem oddly fitting, giving players a yin and yang duo of games fit for very different moods. After shooting up the streets and swearing up a storm in Grand Theft Auto: Liberty City Stories, you can slip into the wholesome, quiet (and also pretty dang depressing) adventures of Ico.
While I imagine more than a few of you readers are going to be too busy diving into Rockstar's newest mega-hit, Grand Theft Auto V, today to even notice that a regularly scheduled PlayStation Plus update has gone live, there are a couple of good takeaways to be had for those willing to come up for air, start a couple of downloads, then run headlong back into the streets of Los Santos.
First up is the appropriately timed release of sibling game, GTA: Liberty City Stories, playable on the PSP and PlayStation Vita and giving everyone the chance to take some crime spree action on the road at no additional charge. Players will take on the role of Toni Ciprini, a former higher up in the Leone family crime syndicate. Ciprini had to go into hiding after killing a fellow mobster, but now he's back on the streets and ready to take charge.
Pretty much everything you love about the GTA series has been squeezed down to fit onto the portable console, including a big, open world, lots of vehicles to drive, crimes to commit, guns to shoot, side missions to tackle and a main story to unravel.
If, however, you would prefer something a little lest bombastic and a little more "all the feels," then perhaps the HD edition of ICO, the classic PS2 action adventure game, will tide you over for the next week. In ICO, players take on the role of a mysterious young boy who was imprisoned once horns started growing out of his head. In the midst of an escape, the boy comes across a young girl, whom he decides to rescue.
ICO is a beautiful last gen game and laid the groundwork for another little last gen title you may have heard of, Shadow of the Colossus.
While both of those games are hitting the Instant Game Collection this week, several other discounts are being made available for those who either want to try out something else or want to pad their digital backlog.
Sleeping Dogs, for instance, will be marked down to just $9.99 this week. If you didn't get it as part of the Instant Game Collection earlier this year, now's the time to grab it on the cheap. The Kane & Lynch games are also on sale with the first game going for $5.99 and Dog Days marked down to $7.99.
Real Boxing for the PlayStation Vita is launching this week, but Plus subscribers can knock a dollar off its 10 buck price tag and pick it up for 8.99. Similarly, Pixel Junk Monsters: Ultimate HD has been discounted, mobbing from $14.99 to $11.99.
Staff Writer for CinemaBlend.
Your Daily Blend of Entertainment News
Thank you for signing up to CinemaBlend. You will receive a verification email shortly.
There was a problem. Please refresh the page and try again.