Mag II Wireless Gun Controller Now Available For PS3, PC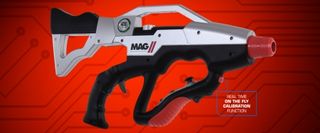 All Interactive Entertainment announced today that their Mag II Gun Controller has officially become available for purchase from major and minor retailers in both the UK and the US. While the device carries a hefty price tag, it also carries some nifty high-end features as well.
One of the key elements is that the Mag II can be updated on the fly thanks to firmware upgrades from simply plugging into your PC and downloading the necessary updates. In addition to this, the Mag II sports all the standard controller functionality of current gen controllers and supports all currently available first-person shooters.
Another highlight is that the device has on-the-fly, in-game calibration. This means that while you're playing some games and need to adjust the sensitivity, you can do so without having to restart the game or head back to the controller configuration setup. That's highly useful for when playing games where some weapons may require slight tweaking or modification.
Best of all, the Mag II's wireless design comes with high precision gyroscopic sensor, so there's no need for an actual sensor bar. Neat, eh? What's more is that you also get the full rumble effect, just like in every other worthwhile controller, so you can actually feel the recoil when you fire shots in games.
The only downside is that the Mag II comes with a hefty $149.99 price tag. So you'll probably have to shop around for a better price if this device suits your gaming desires. You can learn more by visiting the Official Mag II Website.
Staff Writer at CinemaBlend.
Your Daily Blend of Entertainment News
Thank you for signing up to CinemaBlend. You will receive a verification email shortly.
There was a problem. Please refresh the page and try again.