Marvel Ultimate Alliance, New Heroes Available On Xbox Live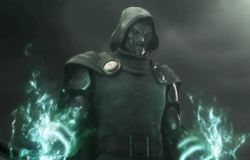 The Heroes and Villains pack for Marvel Ultimate Alliance is currently available on the Xbox Live Marketplace. Sadly this update and upgrade to the largest roster of interactive video game superheroes is only available for the Xbox 360. Sorry PS3, PS2, Wii and even original Xbox gamers, this uber-update is only available for gamers with a 3-6-0.
The eight playable characters being added to the Marvel Ultimate Alliance character line-up will now include the likes of Venom, Cyclops (why wasn't he one of the originals?!), Magneto, the Hulk, Hawkeye, Sabretooth, Doctor Doom and Nightcrawler. If really looking to expand on your Ultimate Alliance experience you obviously can't go wrong with this update.
Now I could go on some bureaucratic rant about the money squandering that companies implore gamers to employ with Microtransactions, but instead I'll just describe to you how to spend your hard earned cash on the three available download packs. The Hero Pack and Villain Pack are 500 Microsoft points ($6.25) and the Combined Hero and Villain Pack is 800 Microsoft points ($10). Heroes and Villains gamer pic packs are also available for 80 Microsoft points each ($1).
Of course, for more information regarding Marvel Ultimate Alliance, you can visit the Official Website.
Staff Writer at CinemaBlend.
Your Daily Blend of Entertainment News
Thank you for signing up to CinemaBlend. You will receive a verification email shortly.
There was a problem. Please refresh the page and try again.