Max: The Curse Of Brotherhood Coming To Xbox Live Arcade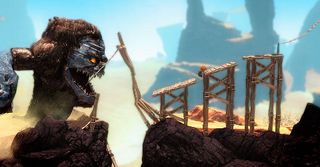 Press Play has announced their first-ever Xbox Live Arcade game. Max: The Curse of the Brotherhood, a reboot of the 2010 puzzle-platformer Max and the Magic Marker, will be released this spring.
Max's little brother Felix has been captured by dark forces. In order to rescue him, Max must journey into the magical realm of Anotherland. He'll travel through swamps, deserts, castles and caves in his quest.
The key to the gameplay is Max's marker. He can jump over some obstacles but in many cases, he'll need to rely on the magic properties of this marker. It allows him to create pillars of earth, streams of water and more. This is a dramatic difference from Max and the Magic Marker, in which player summoned more mundane objects like boxes.
"Very early on in the development process we realized, we had to rethink the marker mechanics in order to be able to create more focused and interesting puzzles," said lead game designer Mikkel Martin Pedersen."The old marker was more marker than magic. This time it is the other way around."
The Copenhagen-based developer's previous games were on mobile devices, PC, Mac, and WiiWare. Their switch to Xbox development isn't a huge shock, though, as Microsoft purchased the studio in 2012.
Curse of the Brotherhood will be playable at PAX East next weekend.
Staff Writer at CinemaBlend.
Your Daily Blend of Entertainment News
Thank you for signing up to CinemaBlend. You will receive a verification email shortly.
There was a problem. Please refresh the page and try again.