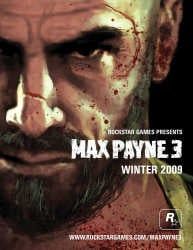 We still have a long ways to go until next holiday season but one thing is clear: it's going to be crowded as hell with releases. The newest game to be thrown on the pile is Max Payne 3, set to be developed by Rockstar Vancouver.
Like the previous two Max Payne games, MP3 stars hard-boiled detective and awful metaphor writer Max Payne. He's left New York City and the NYPD behind but that hasn't ended his troubles. According to the press release, he's betrayed and "trapped in a city full of violence" but it's not clear what city that is.
"We're starting a new chapter of Max's life with this game," said Sam Houser, Founder of Rockstar Games. "This is Max as we've never seen him before, a few years older, more world-weary and cynical than ever. We experience the downward spiral of his life after the events of Max Payne 2 and witness his last chance for salvation."
They provided a digital poster with the press release of a bald dude with a beard - is that Max? No gameplay details were provided but I'd suspect to see Bullet Time make a return for this installment. The game will be released for the PC, PS3, and Xbox 360 next winter.
Image 1 of 1
Staff Writer at CinemaBlend.
Your Daily Blend of Entertainment News
Thank you for signing up to CinemaBlend. You will receive a verification email shortly.
There was a problem. Please refresh the page and try again.