Mega Man: Shenmue Trailer Imagines The Impossible Crossover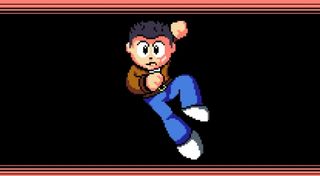 Some fans of various games take their fandom to all new heights when they create their own fan fiction for various properties. Case in point: Peter Sjöstrand's 2.5D crossover featuring Shenmue and Mega Man. The video below is only three minutes but it's three glorious minutes, check it out.
Sjöstrand posted the video over on his YouTube channel, where it's gaining a bit of traction and some media attention. Game Informer notes that the animator managed to bring to life a crossover of strange, epic and yet strangely engrossing proportions.
The video for the Shenmue/Mega Man crossover was actually made to help support the Shenmue 3 Kickstarter. The developers have been attempting to revitalize the game for today's generation of gaming and they're doing so through the power of crowd-funding. Sjöstrand uses the description box as an opportunity to pimp the Kickstarter for Ys Net's Shenmue 3.
As of the writing of this article the game has just less than a week left to finish its funding. It's about $300,000 shy of the $5 million mark, which would really help set the game on its way toward being a lot more feature-complete than where it stands now. Of course, one of the issues is that Ys Net's Yu Suzuki has already admitted that the game would likely need $10 million to bring the real vision to life. He's about $5.2 million shy of that goal. I don't know how much the investors will chip in or what amount Sony may contribute to help maximize Suzuki's goal for making the complete Shenmue experience but the game will at least get made in some capacity.
Suzuki mentioned previously that even with a proper budget that Shenmue 3 likely wouldn't be the complete experience and that the story would probably have to venture into a fourth game to bring it to its finality.
For those who don't know, Shenmue is one of those games where the fans absolutely adore it but it was never a money maker. You can basically imagine that Shenmue is the video game industry's version of Joss Whedon's Firefly.
The main thing is that the game is finally getting made and it seems to have made the gaming community terribly excited about the prospect.
The video put together by Sjöstrand is aimed at building excitement for the upcoming adventure game from Ys Net, but it also pays homage to Capcom's Mega Man series, which seems to have been pushed to the very back of the line in the company's efforts. The whole crossover featuring Ryo calling in the forklift power-up was also a really inventive bit that nearly had me laughing out loud.
If for nothing else, this at least gives Shenmue and Mega Man fans something to talk about as Shenmue 3 preps for the development phase and the spiritual successor to Mega Man, known as Mighty No. 9, also preps for release.
Staff Writer at CinemaBlend.
Your Daily Blend of Entertainment News
Thank you for signing up to CinemaBlend. You will receive a verification email shortly.
There was a problem. Please refresh the page and try again.