Why Minecraft's Creator Is Leaving Mojang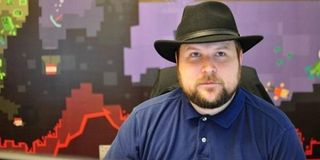 Minecraft creator Markus "Notch" Persson will be leaving Mojang after the company is officially purchased by Microsoft. Persson explained the decision in a very personal blog post.
Mojang's announcement about the Microsoft purchase today made passing mention to Notch's departure, saying that he "doesn't want the responsibility of owning a company of such global significance" or "the pressure of owning Minecraft." The stress from owning both, they said, made it too hard for him to focus on making smaller projects.
Persson more or less confirmed that version of events on his blog.
"Minecraft certainly became a huge hit, and people are telling me it's changed games. I never meant for it to do either. It's certainly flattering, and to gradually get thrust into some kind of public spotlight is interesting."
While he's the creator of Minecraft and the person most closely associated with the game, he doesn't lead its development. In 2011, he handed off the reins to fellow Mojang employee Jens Bergenstein. This allowed Persson to get some rest and then work on different projects.
His next game was 0x10c, which seemed even more ambitious than Minecraft. Players would use spaceships to explore a persistent universe with seamless transitions between space and planets. Other features included trading, spaceship battles and programmable in-game computers. Notch confirmed in August 2013 that the project was cancelled, though.
"Since I decided to just stick to small prototypes and interesting challenges, I've had so much fun with work. I wasn't exactly sure how I fit into Mojang where people did actual work, but since people said I was important for the culture, I stayed."
However, to the world, Notch was still considered the face of Minecraft. This meant that he still took the brunt of criticism leveled at the game or Mojang. For example, when Mojang restricted private Minecraft servers from charging for features or in-game perks, many blamed Persson even though "had nothing to do" with the decision. He found the situation very frustrating and made this almost prophetic tweet:
He later watched a video about Fez creator Phil Fish's turbulent relationship with gamers. This video, coupled with the drama over private servers, made him realize he wasn't happy where he was.
"I didn't have the connection to my fans I thought I had. I've become a symbol. I don't want to be a symbol, responsible for something huge that I don't understand, that I don't want to work on, that keeps coming back to me. I'm not an entrepreneur. I'm not a CEO. I'm a nerdy computer programmer who likes to have opinions on Twitter."
Persson plans to leave as soon as Microsoft's purchase of Mojang is complete. He'll continue working on "small web experiments" and competing in the two-day development competition Ludum Dare.
"If I ever accidentally make something that seems to gain traction, I'll probably abandon it immediately."
Whether or not that's a joke, he really could leave commercial game making behind. As the majority shareholder of Mojang, he stands to make a huge amount of money off Microsoft's $2.5 billion purchase. He could live comfortably for the rest of his life without selling another video game.
I selfishly hope that he does try to make another game as grand as Minecraft someday. Still, it does sound like leaving that game and his company behind is the best move right now for his well being. Being the public avatar for such a hugely successful game had to be exhausting, especially for someone who doesn't want that kind of attention.
While Notch is moving on from Minecraft, he still has warm feelings for the player base that made it into a hit. He closed his blog post by thanking them.
"I love you. All of you. Thank you for turning Minecraft into what it has become, but there are too many of you, and I can't be responsible for something this big. In one sense, it belongs to Microsoft now. In a much bigger sense, it's belonged to all of you for a long time, and that will never change."
"It's not about the money. It's about my sanity."
Staff Writer at CinemaBlend.
Your Daily Blend of Entertainment News
Thank you for signing up to CinemaBlend. You will receive a verification email shortly.
There was a problem. Please refresh the page and try again.